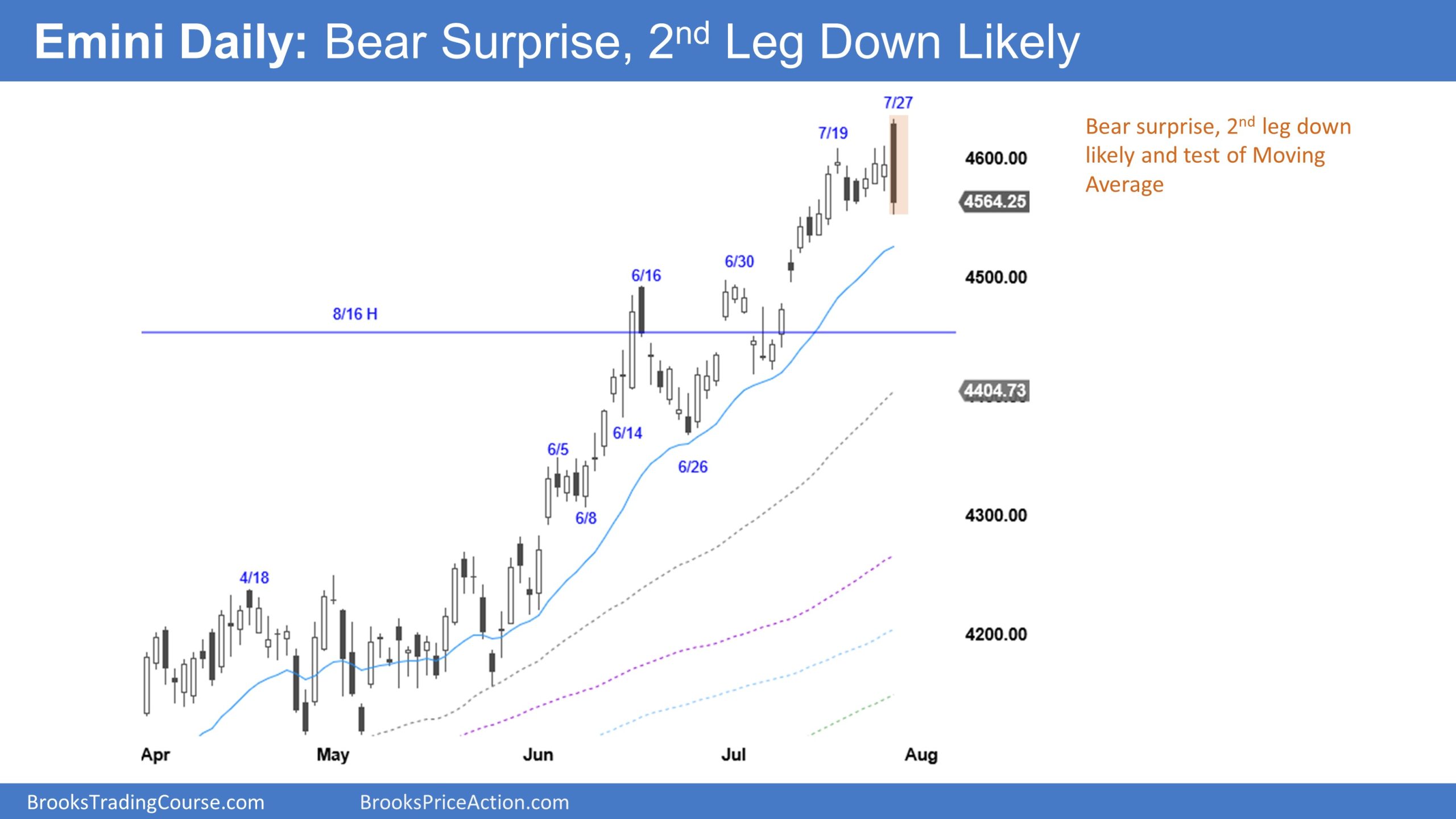 The bulls gapped up yesterday and sold off last in the day, creating a large outside down day. Yesterday was a big enough bear surprise that the odds favor a second leg down.
The market has been above the moving average for well over 35 bars, and yesterday was an agreement that the market is too expensive.
The moving average reflects the fair price, and bulls are happy to buy high and above the "fair price" (moving average) when momentum is driving the market up. However, once the moment disappears, traders will no longer be willing to buy high, and the market will begin to go sideways as traders decide they want to buy lower.
Eventually, everyone wants to buy at the moving average, and the market often gets a sell vacuum.
Yesterday's bear breakout bar is strong enough that the odds favor a second leg down. The market will probably test the June 30th breakout point high and the 4,500 big round number.
The bears want today to have strong follow-through selling after yesterday's bear breakout. However, the bar is big, which means it is climactic and may lead to traders buying the close for a scalp. This would lead to a brief pullback and a second leg down.
Overall, yesterday was enough of a surprise that the Bears will likely get a second leg down after any pullback.
E-Mini 5-Minute Chart and What to Expect Today
Yesterday's selloff into the close was climactic. There is a 75% chance of sideways trading lasting two hours, beginning before the end of the second hour (bar 24).
There is a 50% chance of follow-through selling and a 75% chance of sideways trading, as mentioned above.
There is only a 25% chance that today will be another strong small pullback bear trend day.
Traders should expect the first two hours of the day to have a lot of trading range price action. This means traders should use caution and expect most breakouts to fail.
Today is Friday, so weekly support and resistance is important. The market is near the open of the week is 4,575.25. This will probably be an important magnet today as bears want the market to close below it, creating a bear bar on the weekly chart.
Traders should pay attention to the open of the day as the bears want follow-through after yesterday's bear breakout, and the bulls want to prevent it.
Lastly, today is Friday, which means there is an increased risk of a surprise breakout up or down in the final hours of the day as traders decide on the close of the weekly chart. Traders should be open to any possibility and must not deny the price action in front of them.
Yesterday's Emini setups
Here are several reasonable stop-entry setups from yesterday. I show each buy entry with a green rectangle and each sell entry with a red rectangle. Buyers of both the Brooks Trading Course and Encyclopedia of Chart Patterns have access to a near 4-year library of more detailed explanations of swing trade setups (see Online Course/BTC Daily Setups). Encyclopedia members get current daily charts added to Encyclopedia.
My goal with these charts is to present an Always In perspective. If a trader was trying to be Always In or nearly Always In a position all day, and he was not currently in the market, these entries would be logical times for him to enter. These, therefore, are swing entries.
It is important to understand that most swing setups do not lead to swing trades. As soon as traders are disappointed, many exit. Those who exit prefer to get out with a small profit (scalp), but often have to exit with a small loss.
If the risk is too big for your account, you should wait for trades with less risk or trade an alternative market like the Micro Emini.