Investing.com – The pair hardly reacted to the positive European inflation surprise. The preliminary for November came in at 10%, down from 10.4% expected, and down from 10.6% the previous month.
The lack of reaction of the EUR/USD is partly explained by the , which was in line with the consensus and stable compared to the previous month at 5%. In addition, the posted a surprise increase to 6.6%, compared to 6.3% expected and 6.4% previously.
In other words, behind the apparent good surprise of lower-than-expected inflation lies a more complicated context, which shows that it is mainly energy and food that are behind the decline in inflation, which means that the tide can quickly turn.
This means that today's inflation numbers could be taken with a grain of salt by the ECB, so they are unlikely to conclude that they are starting to win their battle against inflation.
Thus, while the Euro-Dollar was trading around 1.0358 just before the release, the pair has peaked at 1.0380 for now.
Several U.S. statistics likely to influence EUR/USD on Wednesday
EUR/USD traders' attention now turns to the U.S., with a busy economic schedule this afternoon, starting with the November U.S. at 08:15 ET (13:15 GMT). Economists are expecting 200k jobs to be created, after 239k the previous month.
The is also on the agenda, and the consensus forecast is for quarterly growth of 2.7% after 2.6% previously.
The GDP report will also feature the release of the index of household consumption, a measure of inflation that the Fed is very interested in.
The 200-day MA remains a key hurdle for EUR/USD
From a chart perspective, many traders are keeping a close eye on the 200-day moving average (in blue on the chart below), which has been tested several times in recent weeks, yet EUR/USD has failed to hold above it.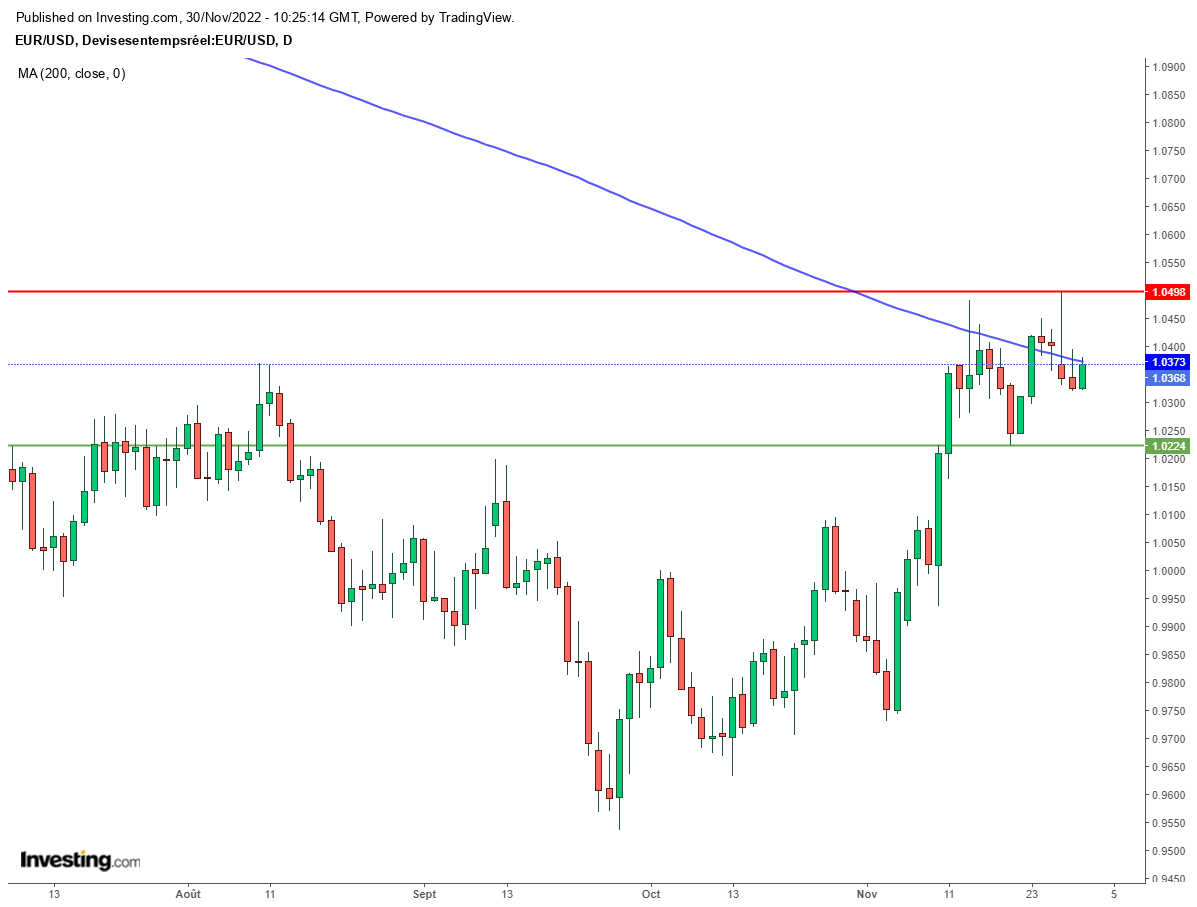 Currently, at 1.0373, this 200-day moving average is an immediate hurdle for the currency pair, ahead of the psychological threshold of 1.04 and then Monday's high at 1.0497. In case of a correction, the psychological threshold of 1.03 will be the first potential support, before the November 21 low at 1.0223.
>> Find real-time results of all the important statistics for EUR/USD today in our economic calendar.