Activision Blizzard is drifting away from Microsoft's $95-a-share cash offer

The acquisition faces an in-depth European Union probe and scrutiny from U.S. regulators

Still, Activision is in a strong growth mode as its gaming titles continue to fetch higher revenues
Investors in Activision Blizzard (NASDAQ:) stock are getting nervous these days. The upside momentum, which started early this year after Microsoft (NASDAQ:) announced buying the game publisher in an all-cash offer, is waning amid reports that regulators might block the all-cash deal.
One indication of this uncertainty is the widening spread between Activision's current price and Microsoft's all-cash bid of $95 a share, also known as merger arbitrage. At $73.51 on Wednesday, Activision Blizzard stock offered a 23% spread, substantially higher than 8% on January 18 when the deal was announced.
The merger arbitrage has widened in recent days as reports emerged that both U.S. and Europe will conduct close antitrust scrutiny of the proposed deal, which is the largest ever acquisition by the tech giant Microsoft, with a price tag of about $69 billion.
Politico reported last week that the Federal Trade Commission is likely to file an antitrust lawsuit as early as next month on the grounds that the merger would give Microsoft an unfair advantage in the video game market. Both companies plan to close the deal in the first half of 2023.
Buying Activision, which owns some of the most popular gaming franchises like Call of Duty and World of Warcraft, will help the software giant expand its offerings for the Xbox console and push it into the fast-growing markets for mobile gaming and the metaverse.
According to Politico, Sony Interactive Entertainment (NYSE:) has emerged as the deal's primary opponent, telling the FTC and regulators in other countries that if Microsoft made hit games like Call of Duty exclusive to its platforms, Sony would be significantly disadvantaged.
The European Union's competition watchdog early this month announced that it would pursue an in-depth investigation into the deal to find out whether it could harm competition in the videogame industry.
40% Odds
For investors, this situation creates an interesting risk-reward proposition. If the deal fails to pass through regulatory approval, there is a risk of further weakness in Activision stock. But if it goes through, they can make a hefty return based on ATVI's price today.
Aaron Glick, a merger arbitrage specialist at Cowen & Co., said in a Bloomberg report that the market is pricing in roughly 40% odds of the deal successfully closing, based on the assumption that the stock would be trading at $60 should it fail.
Though it's hard to predict which way this deal will go from here due to the regulatory uncertainty, holding Activision stock isn't a bad idea either way. The company is in a strong growth mode, and its stock is worth holding in a long-term portfolio, even on a standalone basis.
Activision's mobile platform net bookings grew 20% during the third quarter from a year earlier, helped by the huge popularity of games like Candy Crush and Diablo Immortal.
Furthermore, Activision's current quarter is stacked with new releases, including the recent Call of Duty: Modern Warfare II. The latest title has been an overwhelming success, topping more than $1 billion in sales in the first ten days of its release, the fastest pace of any game in the highly successful franchise.
Activision's dominant position in the gaming world makes it a buy in an Investing.com poll of 26 analysts. Their 12-month consensus price target shows a 25% upside potential.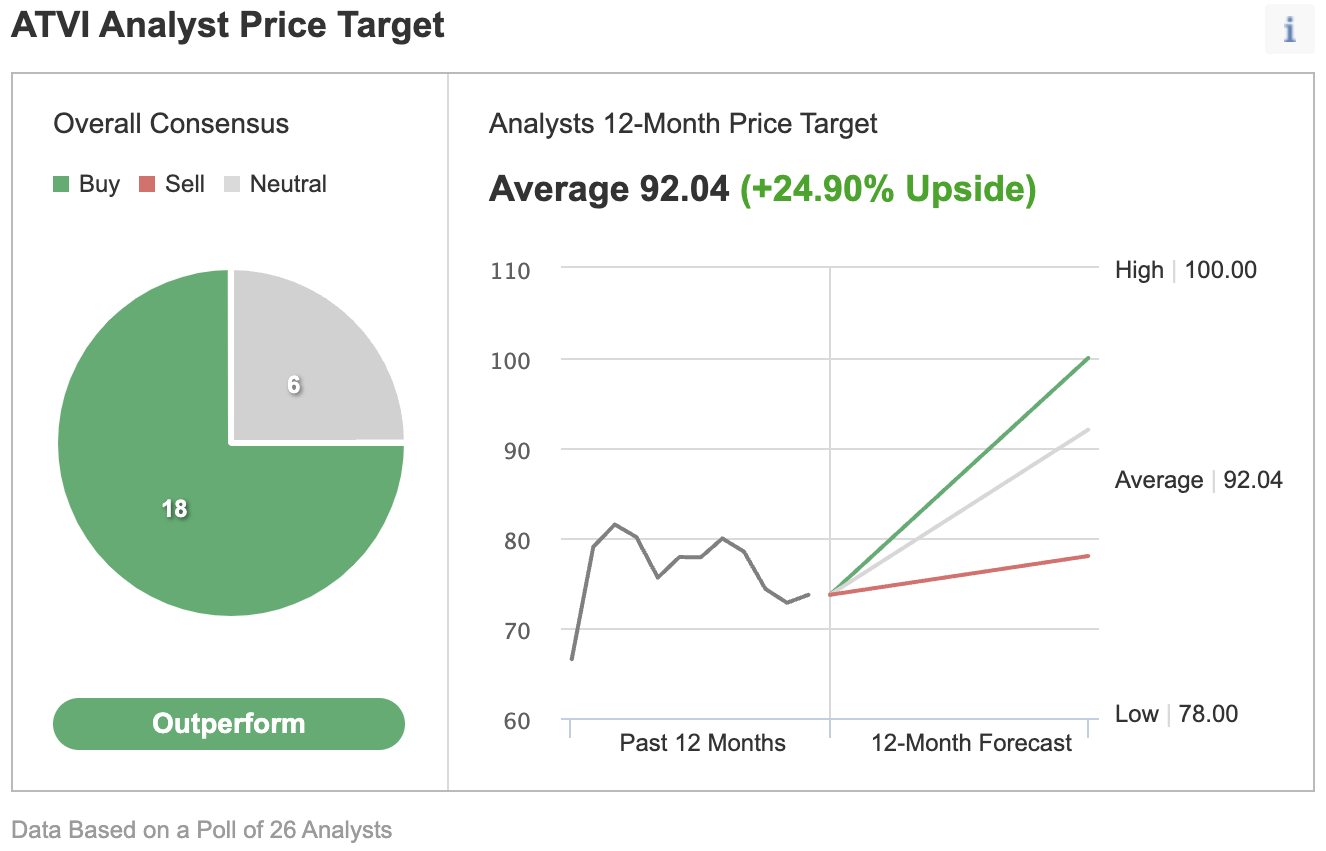 Source: Investing.com
While upgrading Activision Blizzard to overweight from equal weight, Morgan Stanley said it sees a compelling risk/reward in this trade. The note adds:
"While it is challenging to assess the likelihood that MSFT's proposed acquisition receives regulatory approvals, we believe the risk/reward is compelling on a fully standalone basis…with a call option of $95 in cash per share, if and when the MSFT deal closes."
MKM also upgraded Activision to buy from neutral, saying the current stock price doesn't reflect the fundamental improvements being seen with its business and the strong growth potential in 2023.
Bottom Line
Activision won't take a big hit if its proposed acquisition by MSFT fails regulatory approval. Its gaming franchise is strong enough to produce healthy returns for its investors, even on a standalone basis.
Disclaimer: As of this writing, the author owns Microsoft shares. The views expressed in this article are solely the author's opinion and should not be taken as investment advice.